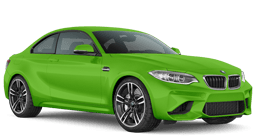 Has this ever happened to you? You're running errands, headed to work or meeting friends at a local restaurant for dinner and some great conversation. The highway is crowded with a steady stream of nondescript cars, trucks and SUVs. Your mind starts to wander. But then you see it—the sweetest ride you've ever laid eyes on! Maybe it's a sleek Corvette dressed in deep purple metallic "paint." Or perhaps it's an RV decked out in the signature colors and images of your favorite sports team on its way to a lively stadium tailgate party.
Now Shift Into Gear and Enjoy Your New Ride
No matter what you envision as your perfect ride, it's within your grasp. At TradeWraps, we cater to unique individuals who want their personal vehicles to stand out from the crowd with cool vinyl wraps. We offer more than 100 auto vinyl wrap colors and can work with you to create the design that turns your vehicle into a work of art with our paint wraps for cars. Our superior automotive vinyl wrap material is durable and our smooth installation process for car wraps is second to none. When we wrap a car, heads will turn.
When people want to switch it up with their personal vehicles, more and more drivers are choosing car wraps over painting or repainting their vehicles. That's because the car wraps process is smooth and includes much more flexibility and convenience.
First, our automotive vinyl wrap material is durable and removable. If for some reason you get tired of the new color, simply peel it off. And if your vehicle is dented, scratched or damaged in some other way, our paint wraps for cars are easy to touch up.
TradeWraps Insists on the Best
We use only quality vinyls from top-of-the-line companies that offer excellent warranties, including 3M and Avery. And while you'll be able to find installers that use cheaper vinyls that cost less, their products are inferior and could damage your vehicle's paint job. Plus, they rarely include trusted warranties.
We'll help you coast through our seamless process: design, color proof, production and installation.
Design: We'll collect the materials we need from you. If you've supplied the design, we'll lay it out and get your approval. If you need a professional designer, we'll make that happen, too. In addition to custom design work, you'll have more than 100 auto vinyl wrap colors from which to choose along with numerous finishes.
Color Proof: TradeWraps will provide you with a 47-inch full-color proof printed on wrap film within 48 hours after you approve the design.
Production: Once you approve and return the proof, making sure the auto vinyl wrap colors and everything else meet your satisfaction, it's time for it to be printed, laminated and shipped. Printing takes about five business days and we'll schedule installation once your design moves from Color Proof to Production. If you live outside of our area, you will receive your graphics three to five days after they are printed.
Installation: The process to wrap a car should take one or two days, depending on the vehicle. Our skilled and experienced installers, including several with 3M Preferred Installer certification, will work meticulously to assure your wrap is flawless. Our Manassas, VA, state-of-the-art installation bay is temperature-controlled with ideal lighting conditions. But if you don't live near us, we'll come to you as long as you can provide an indoor, climate-controlled installation location with proper lighting.
Ready to get your motor running? Call TradeWraps at 703.239.4949 or contact us on the web.